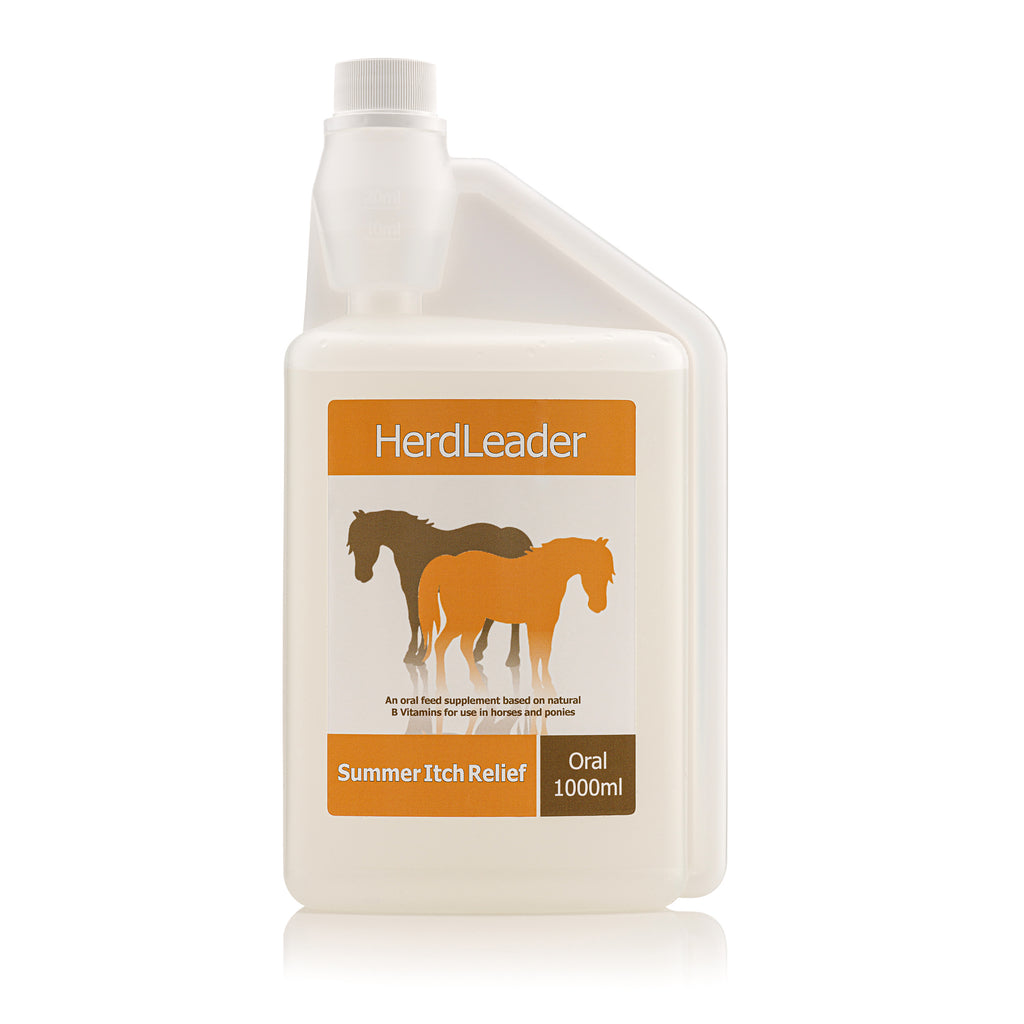 HerdLeader Summer Itch Relief - Oral supplement for insect bite irritation & summer allergies
Key Benefits
Herdleader, unlike competitors, is ready mixed: saving you time and trouble each day.
Herdleader contains more Nicotinamide than any other brand - giving your horse maximum comfort.
"This is my second bulk order and would not be ordering a second time if I wasn't totally happy with the company and the product"  Marylin Warren  Judge.me Reviews

Nicotinamide, a form of Vitamin B3, has been well established in both human and veterinary medicine as a modulator of the immune system, dampening down over reaction that leads to irritation and itching caused by midge bites and grass/pollen allergies.  
Description
HerdLeader is a neutraceutical non-medicinal product containing nicotinamide, one of the B vitamins, which helps to maintain a healthy skin in horses prone to irritation from insect bites & allergies in the summer months.

Use of the oral feed supplement is essential with use of additional topical support as judged appropriate to the animal and condition of the skin.
It is fed daily as a liquid additive to the horses food concentrate. Feeding should begin as early in the season as practical before insect activity reaches a peak.
Feeding
Feed once daily by drawing up the correct amount of the product into the measuring chamber and sprinkling it over a small handful of concentrate which you then give to your horse. Horses over 500kg feed 20ml, smaller horses and ponies feed 15ml.
If you choose to add it to your horse's whole feed ration then ensure that the liquid is taken and not wasted in the bottom of the feed bucket/bowl.
A 1000ml bottle of HerdLeader is 50 days supply for a horse, more for a pony, up to 66 days supply.
Summer skin problems in horses
The skin is very important; it is in fact the largest organ of the body.  It provides a strong barrier to challenges from the outside world and plays an important role as part of the immune system.   In spite of the exposed nature of the skin with luck it may remain mostly free of disease and trauma.  However simply because it is exposed the skin is also the organ most likely to be damaged accidentally - cuts, bruises and burns are common!  
Skin diseases are common in horses; in a country like the UK for instance it is thought that over 50,000 horses suffer from skin-related problems & conditions but the problem is that many have very similar appearances.
 There are a number of causes of these conditions, for example: feed hypersensitivity, genetic predisposition, stress, nettle stings and, all too commonly, saliva from insect bites – especially from the Culicoides fly (midges), a problem of seasonal nature known popularly as Sweet Itch.
Some breeds are genetically more prone to Sweet Itch than others, for example thoroughbred horses are much less likely to be affected than cob-type ponies.
Sweet Itch symptoms usually start to appear in the spring - when the midges become active - but can persist well into the winter months especially if the season has been mild.  After being exposed to the allergen (e.g. saliva from the midge bite) allergic horses can develop a Type I hypersensitivity reaction and histamine is produced. This is an'over the top' immune reaction to the bite, resulting in swelling and itching of the skin.
The horse will start to rub and chew at affected areas that can then become infected. The more often a horse is bitten the worse the reaction becomes.  Some horses can become very debilitated & temperamental throughout the spring and summer months as a result.
FAQ's


---
Share this Product
No results
Unfortunately this product has had no good results for my sweet itch mare 🥴
That is a shame for her, but fair comment, thank you. Ideally we recommend starting to feed the supplement before the sweet itch season gets into its stride, rather than in the Autumn.
He still has a mane!
My horse developed sweet itch three years ago and for the last few summers he's rubbed out his mane by June. I started giving him summer itch relief this spring and so far (touch wood) he still has a full mane and tail, no weeping sores and he's only been in a standard fly rug not the thick sweet itch hood which he hated. I'm keeping everything crossed this keeps going for the rest of the summer.
Its great
This is the first year my horse hasn't had a dectomax injection for sweet itch. Herdleader seemed to have done the trick. Fingers crossed the sweet itch season isn't over yet but so far good.
Herd leader
Easy to use , effective
And economical
Fabulous service.quick delivery
Ordering on the phone was a pleasant experience, the lady was really honest and helpful. I bought both the in feed and topical (which smells Devine )